JUNE 2 – AUGUST 1, 2020

---
Odili Donald Odita is an abstract painter whose work explores color both in the figurative historical context and in the sociopolitical sense. He is best known for his large-scale canvases with kaleidoscopic patterns and vibrant hues, which he uses to reflect the human condition.For Odita, color in itself has the possibility of mirroring the complexity of the world as much as it has the potential for being distinct. In his paintings, we see color interwoven and mixed, becoming an active agent in representing the essential power that light has in identifying the entirety of our world. He thinks of his colors as agents to express thoughts, ideas, and transformational change. Much of his color selection is based on personal memories and created intuitively by hand-mixing, so that no two shades are ever repeated.

Born in Nigeria and raised in the American Midwest, Odita's work is also heavily inspired by a sense of dual identity, combining aspects of Western modernity with African culture. His practice speaks to a contrast of cultures and a desire to create something new from a set of distinct parts. In this sense, his paintings, like a stitched or quilted textile, are weavings from different spaces, times and various temperaments, which convey the complexity of culture, identity, and being.
SOLD OUT
11 x 8.5 IN.
GICLÉE PRINT
2020
EDITION OF 20
---
SHIKEITH
Untitled (Black Man)
Shikeith is originally from Philadelphia, PA, and now lives and works in Pittsburgh, PA. He received a BA from The Pennsylvania State University (2010) and an MFA in Sculpture from The Yale School of Art (2018). Within overlapping practices of visual art and film making, he investigates the experiences of black men within and around concepts of psychic space. He has shared his work nationally and internationally through recent exhibitions and screenings that include The Language Must Not Sweat, Locust Projects, Miami, FL; Notes Towards Becoming A Spill, Atlanta Contemporary, Atlanta, GA; Shikeith: This was his body/His body finally his, MAK Gallery, London, UK; Go Tell It: Civil Rights Photography, Seattle Art Museum, Seattle, WA; A Drop of Sun Under The Earth, MOCA LA, Los Angeles, CA; Labor Relations, Wroclaw Contemporary Museum, Poland; and Black Intimacy: An Evening With Shikeith, MoMA, New York, NY. He is a 2019 recipient of the Joan Mitchell Foundation Painters & Sculptors Grants.

SOLD OUT
11 x 8.5 IN.
GICLÉE PRINT
2013
EDITION OF 20
---
JEREMY DELLER & FRASER MUGGERIDGE
We the People
Jeremy Deller is an English conceptual, video and installation artist. Much of Deller's work is collaborative; it has a strong political aspect, in the subjects dealt with and also the devaluation of artistic ego through the involvement of other people in the creative process. He won the Turner Prize in 2004, and in 2010 was awarded the Albert Medal of the Royal Society for the encouragement of Arts, Manufactures & Commerce (RSA). Deller is known for his Battle of Orgreave (2001), a reenactment of the actual Battle of Orgreave which occurred during the UK miners' strike in 1984, and for 2016's We're Here Because We're Here.


Fraser Muggeridge studio (Michael Kelly, Kate Morrell, Fraser Muggeridge, Katie Evans, Joe Nava, Simon Rogers and Michela Zoppi) is a graphic design company based in London.Throughout a wide range of formats, from artists' books and exhibition catalogues to posters, marketing material, exhibitions and websites, the studio prioritizes artists' and writers' content over the imposition of a signature style. By allowing images and texts to sustain their own intent and impact, each project is approached with typographic form and letterform playing a key role in arriving at a sympathetic yet subtly alluring object.
SOLD OUT
11 x 8.5 IN.
GICLÉE PRINT
2020
EDITION OF 20
---
*The signature and date that appear in this print are printed.
Nicole Eisenman lives and works in Brooklyn, New York. She is a McArthur Foundation Fellow and was inducted into the American Academy of Arts and Letters in 2018. Her work was included in both the 2019 Venice Biennale and the 2019 Whitney Biennial. Recent solo exhibitions include Sturm und Drang at the Contemporary Austin, Baden Baden Baden at the Staatliche Kunsthalle in Baden-Baden, Germany;, Dark Light, at Vielmetter Los Angeles; Dark Light, at Secession, in Vienna, Austria; Al-ugh-ories, at The New Museum, New York; and Magnificent Delusion, at The Anton Kern Gallery, New York. Having established herself as a painter, Nicole Eisenman has expanded her practice into the third dimension.
SOLD OUT

11 x 8.5 IN.
GICLÉE PRINT
2018
EDITION OF 20
---
Willa Nasatir lives and works in New York. She received her BFA from Cooper Union in 2012. She has had solo exhibitions at the Whitney Museum of American Art, NY; the Albright-Knox Art Gallery, Buffalo; Ghebaly Gallery, LA; Chapter NY, New York; and the White Room at White Columns, NY. Her work has also been included in exhibitions at the New Museum, New York; Company Gallery, New York; and Drei, Cologne.
SOLD OUT
11 x 8.5 IN.
GICLÉE PRINT
2018
EDITION OF 20

---
Ulrike Müller engages relationships between bodies and signification, and a concept of painting that is not restricted to brush and canvas. Her work moves between different contexts and publics, it invites collaboration, and expands its realms of production in processes of exploration and exchange. Müller pushes her formal vocabulary through material and affective states and makes use of a variety of materials and techniques. Alongside small-scale paintings in baked enamel, she also produces expansive wall paintings, publications, prints, and textiles. She teaches painting in the Milton Avery Graduate School of the Arts at Bard College (Bard MFA).
Ulrike Müller was a co-editor of the queer feminist journal LTTR (2005-2008) and organized Herstory Inventory. 100 Feminist Drawings by 100 Artists (2009-2012). Recent solo exhibitions include Mumok (Vienna, 2015) and Kunstverein für die Rheinlande und Westfahlen (Düsseldorf, 2018). Her work was included in the 2017 Whitney Biennial, in the 57th Carnegie International (2018), and in the 58th international art exhibition of the Biennale di Venezia (2019).


SOLD OUT
11 x 8.5 IN.
GICLÉE PRINT
2014/2019
EDITION OF 20
---
Jayson Musson was born in Bronx, NY in 1977. He received a BFA in photography from University of the Arts and an MFA in painting from the University of Pennsylvania, both in Philadelphia. He attended the Skowhegan School of Painting and Sculpture in Skowhegan, ME in 2011. His solo exhibitions include The Grand Manner at Pennsylvania Academy of Fine Arts, Philadelphia (2011); Neoteny/The Hard Sell at Marginal Utility Gallery, Philadelphia (2011); and Too Black For BET, Dazed & Confused Magazine Gallery, London, England (2008). His work has been included in group exhibitions at Institute of Contemporary Art, Philadelphia; Postmasters, New York; David Castillo Gallery, Miami, FL; West Galerie, Den Haag, The Netherlands; Somerset County Jail, Skowhegan; Grimmuseum, Berlin, Germany; and Hyde Park Art Center, Chicago, among others. His video pieces have been screened at venues including Momenta Art, Brooklyn, and Cottage Home Gallery, Los Angeles.
SOLD OUT
11 x 8.5 IN.
GICLÉE PRINT
2019
EDITION OF 20

---
JUNE 11 – JUNE 25 2020
---
MARK THOMAS GIBSON
Turn it Over
Mark Thomas Gibson received his BFA from The Cooper Union in 2002 and his MFA from Yale University School of Art in 2013, where he was the recipient of the Ely Harwood Schless Memorial Fund Award. Gibson's work was most recently on view in the solo exhibition The Dangerous One at the Rosenwald-Wolf Gallery at University of the Arts in Philadelphia. He has also exhibited at Fredericks & Freiser in New York and Loyal in Stockholm, and participated in the group shows The Curator's Eggs, Paul Kasmin Gallery, New York; Woke!, Contemporary Art Museum, University of South Florida, Tampa; and A Being in the World, Salon 94, New York. In 2016, Gibson co-curated the traveling exhibition Black Pulp! with William Villalongo at 32 Edgewood Gallery, Yale School of Art. The show examined evolving perspectives of Black identity in American culture and history from 1912 to 2016, and garnered reviews in The New York Times and Art in America.
SOLD OUT
11 x 8.5 IN.
GICLÉE PRINT
2020
EDITION OF 20
---
SHELDON OMAR-ABBA
Stinks G day
Sheldon Omar-Abba
is the proud son of immigrants and a brown man in America. His work straddles the line between practicing artist and creative facilitator. His projects are often collaborations between artists, institutions and communities focused on documentation, and community storytelling. He currently uses film photography as an access point for relationship building and discussions around topics of identity, race and social justice. He is currently managing and developing the
Peoples Film Program
, a resource and support hub for BIPOC working in the medium of film photography.
11 x 8.5 IN.
GICLÉE PRINT
2019
EDITION OF 20

---
MICHELLE LOPEZ
Found Object: May 25, 2020
Michelle Lopez' work examines collapsed political and social structures by inverting cultural tropes through her process of building. Her manipulation of industrial and found materials seeks to expose our societal condition. Lopez is an assistant professor in the Fine Arts Program at the University of Pennsylvania's Weitzman School of Design; she leads the Sculpture Division. In 2019 she was a recipient of a Guggenheim Fellowship. Recently she opened the exhibition Michelle Lopez: Ballast & Barricades at the Institute of Contemporary Art, University of Pennsylvania.
SOLD OUT

11 x 8.5 IN.
GICLÉE PRINT
2020
EDITION OF 20
---
KARA SPRINGER
A Small Matter of Engineering, Part 1
Kara Springer's interdisciplinary practice is particularly concerned with armature—the underlying structure that holds the flesh of a body in place. She utilizes photography, sculpture, and site-specific interventions to explore precarity and brokenness in systems of structural support through engagement with architecture, urban infrastructure, and systems of institutional and political power. Springer has lived, worked, and studied in Toronto, Paris, Philadelphia, and New York, where she recently completed the Independent Study Program at the Whitney Museum of American Art.
SOLD OUT

11 x 8.5 IN.
GICLÉE PRINT
2020
EDITION OF 20
---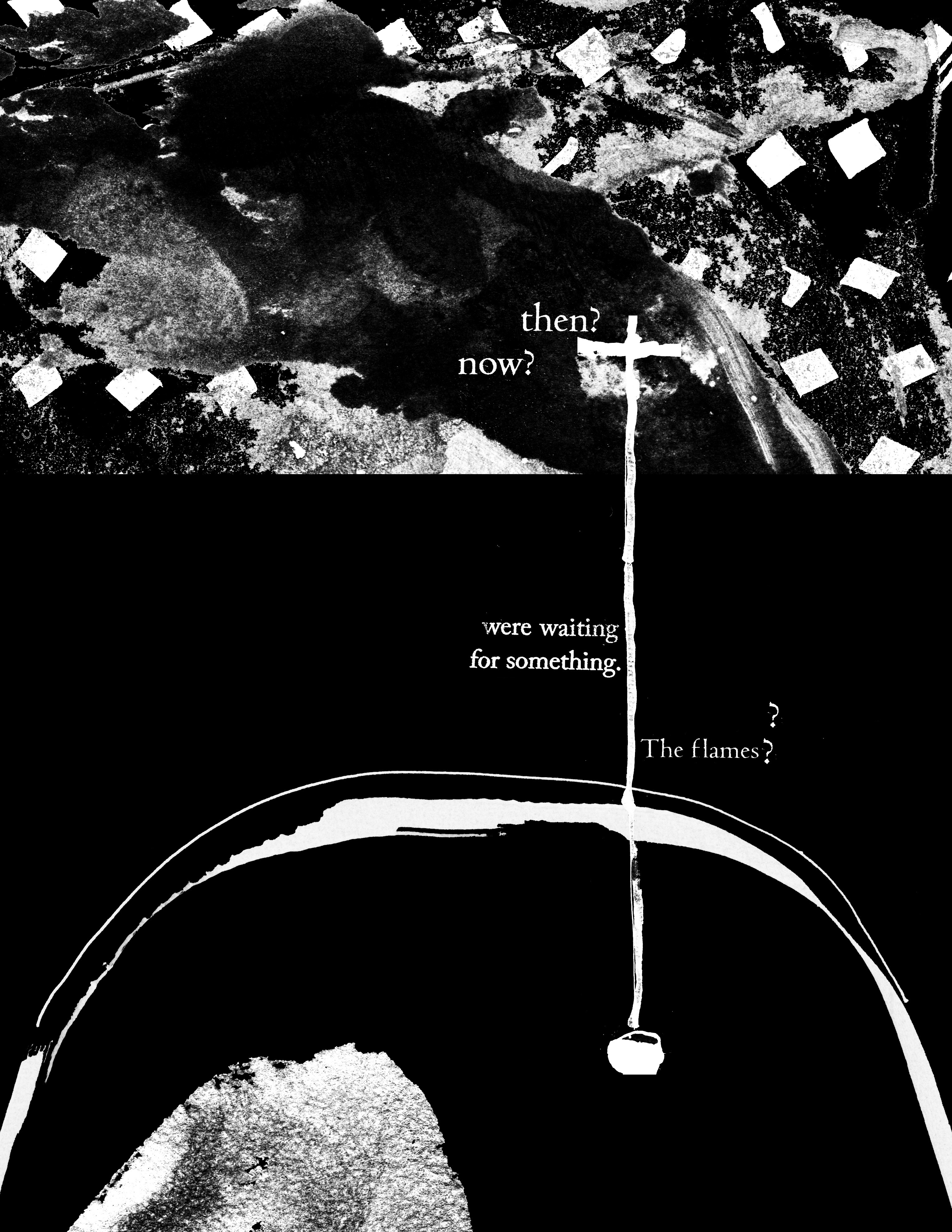 KAMEELAH JANAN RASHEED
The Flames
Kameelah Janan Rasheed (b. 1985) is a Brooklyn-based learner from East Palo Alto, CA. She is invested in the shifting ecosystems of Black epistemologies, or the agile relationships between the varied modes of reading, writing, archiving, editing, translating, publishing, reflecting upon, and arranging narratives about lived Black experiences. With interests in the generative qualities of incompleteness, leakage, dispersal, syncretism (spiritual and otherwise), and choreography (of movement, of learning, of affect), Rasheed works across an ecosystem of iterative and provisional projects. These projects include sprawling Xerox-based "architecturally-scaled collages" (frieze magazine, winter 2018); publications; large-scale text banner installations; digital archives; lecture-performances; library interventions; poems/poetic gestures; and other forms yet to be determined. Rasheed has exhibited at the 2017 Venice Biennale, ICA Philadelphia, Pinchuk Art Center, Brooklyn Museum, Queens Museum, New Museum, Studio Museum in Harlem, Bronx Museum, Brooklyn Public Library, Schomburg Center for Research in Black Culture, and The Kitchen, among others. She is the author of two artist books, An Alphabetical Accumulation of Approximate Observations (Endless Editions, 2019) and No New Theories (Printed Matter, 2019).



SOLD OUT
11 x 8.5 IN.
GICLÉE PRINT
2020
EDITION OF 20
---
DIDIER WILLIAM
Broken Skies: Nou Poko Fini
Didier William is originally from Port-au-prince Haiti. He earned his BFA in painting from The Maryland Institute College of Art and an MFA in Painting and Printmaking from Yale University, School of Art. His work has been exhibited at the Bronx Museum of Art, The Museum of Latin American Art in Long Beach, The Museum at the Pennsylvania Academy of Fine Arts, The Fraenkel Gallery, Frederick and Freiser Gallery, James Fuentes gallery, and Anna Zorina Gallery. He was an artist in residence at the Marie Walsh Sharpe Art Foundation in Brooklyn, NY and has taught at several institutions including Yale School of Art, Vassar College, Columbia University, UPenn and SUNY Purchase. He is currently Assistant Professor of Expanded Print at Mason Gross School of the Arts at Rutgers University.

SOLD OUT
11 x 8.5 IN.
GICLÉE PRINT
2019
EDITION OF 20
---
JUNE 3 – JUNE 9, 2020


---
MARCUS MADDOX
The Defacing of the Frank Rizzo Statue
Marcus Maddox is a fine art photographer working and living in Philadelphia, PA. Maddox became fascinated with capturing the human condition while growing up in Nashville, TN. His images are characterized by a natural tone that is guided by intuition and empathy. His work has been exhibited in the United States and internationally.
SOLD OUT
11 x 8.5 IN.
GICLÉE PRINT
2020
EDITION OF 20

---
David Hartt lives and works in Philadelphia where he is an Assistant Professor, in the Department of Fine Arts at the University of Pennsylvania. His work explores how historic ideas and ideals persist or transform over time. Hartt has exhibited his work at several national and international institutions including The Museum of Modern Art, New York, Whitney Museum of American Art, New York, The Studio Museum in Harlem, New York, The Art Institute of Chicago, The National Gallery of Canada, Ottawa and The Stedelijk Museum, Amsterdam.


SOLD OUT
11 x 8.5 IN.
GICLÉE PRINT
2020
EDITION OF 20
---
ALEX DA CORTE
Morning Paper
Alex Da Corte (b. 1980) is a Philadelphia-based multidisciplinary artist known for his pop-informed sensibility and embrace of theatricality. In his elaborate, surreal set pieces, banal objects and consumer goods serve as both actors and props. His campy détournements, staged in immersive environments, make these familiar references strange. Da Corte's videos, sculptures, paintings, and installations ruminate on personal and cultural politics, alienation, and the complexities of the human experience. Da Corte was included in La Biennale di Venezia 2019, curated by Ralph Rugoff. He also participated in the 57th Carnegie International, curated by Ingrid Schaffner. Da Corte's first survey exhibition Free Roses was held at MASS MoCA, North Adams in 2016. Other recent solo exhibitions include Karma, New York (2019); Secession Building, Vienna, Austria (2017); Maccarone Gallery, New York (2016); the Herning Museum of Contemporary Art, Denmark (2017); and Art + Practice, Hammer Museum, Los Angeles (2016).
SOLD OUT
7 x 7 IN.
GICLÉE PRINT
2020
EDITION OF 20


---
BECKY SUSS
Roll of Thunder Hear My Cry
Suss is currently working on a new painting
Roll of Thunder Hear My Cry.
An image will be available when the work is completed.
Becky Suss chronicles interiors and landscapes, devoid of people but rich with their traces. For her first solo museum exhibition at the Institute of Contemporary Art at the University of Pennsylvania in 2015, rooms and details from relatives' homes were reimagined either life-size or three-fourth scale in densely patterned paintings and ceramics. In conversation with ICA Assistant Curator, Kate Kraczon, Suss notes she is interested in "this notion of something existing simultaneously as documentary and as something that feels like art or poetry or something else." By plumbing family history funneled through the hazy lens of memory, Suss examines space, nostalgia, class, and the transporting nature of art and decorative objects.

SOLD OUT
11 x 8.5 IN.
GICLÉE PRINT
2020
EDITION OF 20
---
JONATHAN LYNDON CHASE
Fast Gaze
Jonathan Lyndon Chase is an interdisciplinary artist principally working in modes of painting, video and sculpture to depict queer black love and community amid the backdrop of urban and domestic spaces. Chase renders form through layers of bright visceral paint, make-up, foam and glitter that often blend emotional and physical states of being. Figures hang in various states of articulation, intertwined with domestic mark-ers of a kitchen, a bedroom and tethered by pop and street signage. Chase subverts canonical misrepresentation and exclusion of the black body, depicting tender scenes of daily life.

SOLD OUT
11 x 8.5 IN.
GICLÉE PRINT
2020
EDITION OF 20
---



TIONA NEKKIA MCCLODDEN
Be Alarmed: The Black Americana Epic, Movement I - The Visions, SCENE IV: Vulnerability

Tiona Nekkia McClodden is a visual artist, filmmaker, and curator whose work explores, and critiques issues at the intersections of race, gender, sexuality and social commentary. McClodden's interdisciplinary approach traverses documentary film, experimental video, sculpture, and sound installations. Themes explored in McClodden's films and works have been re-memory and more recently narrative biomythography. McClodden has exhibited and screened work at the Institute of Contemporary Art-Philadelphia, Museum of Modern Art, Whitney Museum, MOCA LA, Art Toronto's VERGE Video program, MCA Chicago, @RAUMERWEITERUNGSHALLE in Berlin, MOMA PS1, New York, Museum of Contemporary Art, Cleveland; Kansai Queer Film Festival in Osaka and Kyoto, Japan; and the London Lesbian and Gay Film Festival, among others in a range of international film festivals and film programs.
SOLD OUT
11 x 8.5 IN.
GICLÉE PRINT
2020
EDITION OF 20

---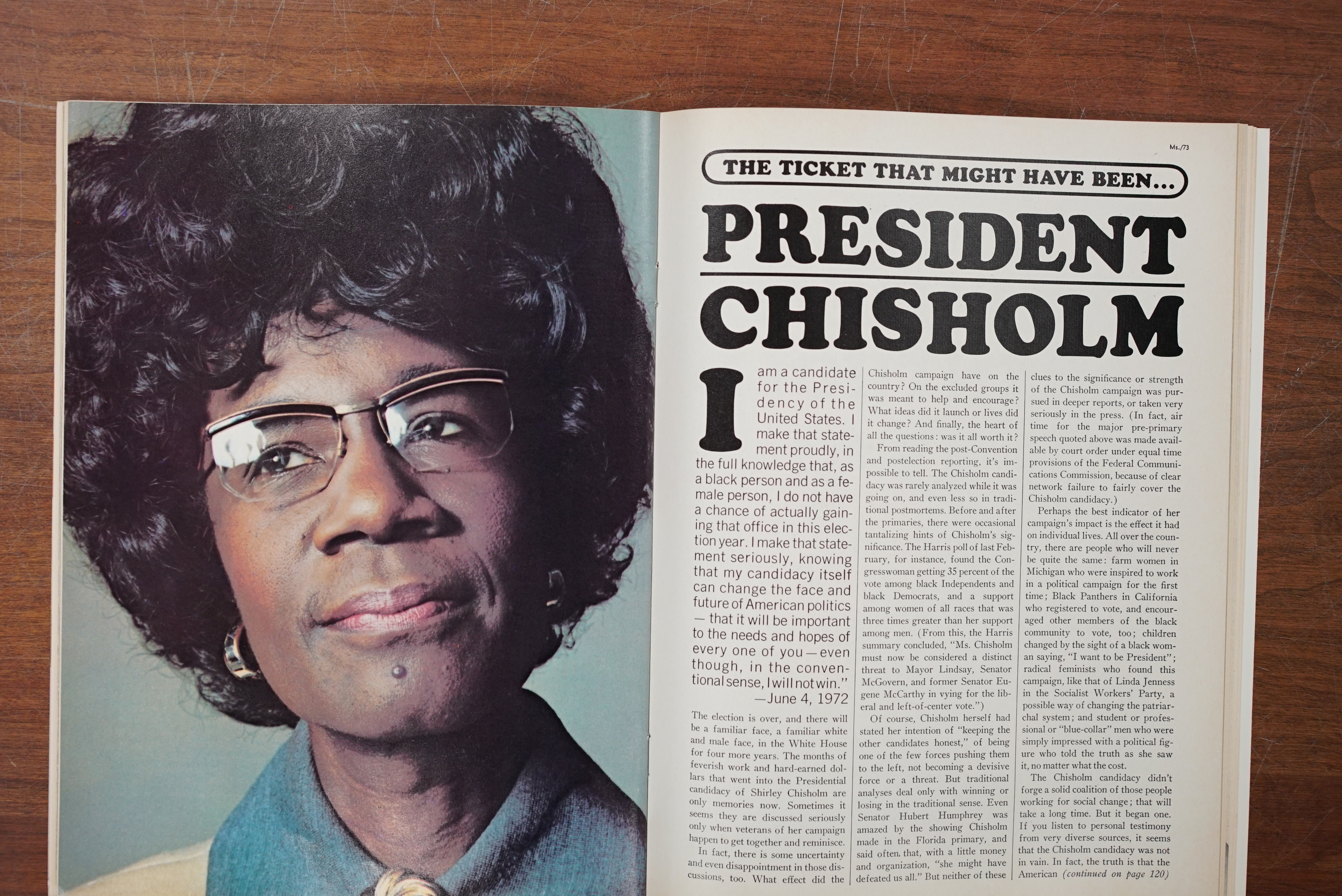 SHARON HAYES
President Chisholm
Sharon Hayes engages multiple mediums–video, performance, and installation–in ongoing investigation into specific intersections between history, politics and speech. Hayes' work is concerned with developing new representational strategies that examine and interrogate the present political moment as a moment that reaches simultaneously backward and forward; a present moment that is never wholly its own but rather one that is full of multiple past moments and the speculations of multiple futures. From this ground, Hayes often addresses political events or movements from the 1960s through the 1990s. Her focus on the particular sphere of the near-past is influenced by the potent imbrication of private and public urgencies that she experienced in her own foundational encounters with feminism and AIDS activism.

SOLD OUT
11 x 8.5 IN.
GICLÉE PRINT
2020
EDITION OF 20